Hello All,
My name is Sandy Shea, a guest blogger for Krazy Kretaions, I'd like to welcome you to my first blog post.
I met Krazy Kreations Design team member Joyce Schmidt at a local crop where she was teaching. I was very inspired about her true love of her crafts and her God given talent. I admire everything that she creates, and have learned so many new techniques from her.
When I visited her studio BeauQ Creations, to attend a class, my attention was drawn to the dolls she had made and put on display. These dolls were absolutely amazing! They all had their own personality and theme. She told me they were made by Krazy Kreations. Some were displayed in a nice plastic boxes, others on a wooden frame made just for them, which enhanced their presence even more. I thought how fun this would this be to use my imagination to design each one the way I want it to look, with only my heart to guide me. I purchased several dolls that day. Needless to say, like many other things, they sat in my scrapbook room for weeks.
I then was attending a 4 day crop that Joyce was at and couldn't decide what to work on, then hit me let me take the dolls that I bought it will be easy and I won't have to pack as much as I usually do. After finally getting settled in at the crop (you know how long that can take)I took out my first doll the Mermaid, with Joyce's help, the addiction started!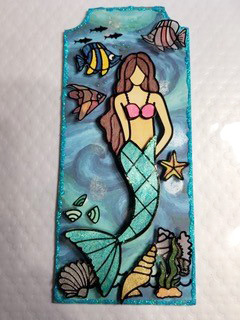 I didn't know what types of paper I would need and of course didn't bring the ones that would work well to the crop. However, they had a had a free table with paper and scraps on it. Every doll that I made that weekend used free paper and scraps. How incredible is that!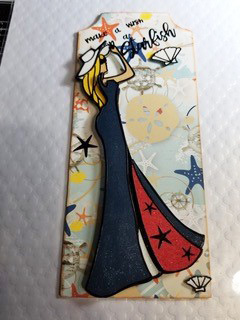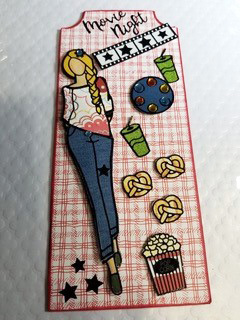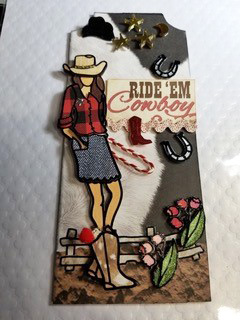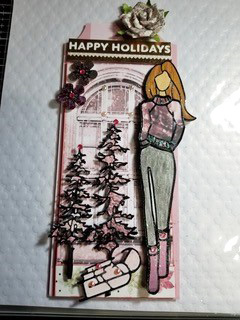 I think that is what makes it so easy to design these dolls. KRAZY KREATIONS gives you all you need to make your own creation. I was so inspired and amazed how fun and creative you can be in creating these dolls. They all have a certain persona that they all display. I was just making one after the other that weekend. It was like a certain part of me jumped out and it was such an awesome feeling when I looked at my final tag. I felt like I had overcome that feeling of not being able to create something as nice as I have seen on display that day at Joyce's.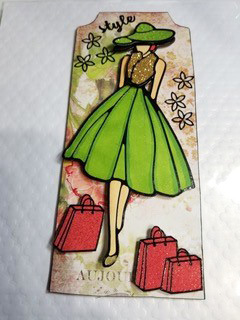 Today's featured doll is the Aloha Island girl. This is how I made her.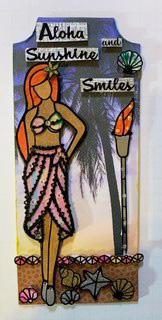 I had some scrap paper that I used on the background to give it an island feel. I had some Mylar paper in my stash, and this is what I used on her skirt and top. I colored her hair with the beautiful Studio 71 Alcohol markers. If you have not used these they are great!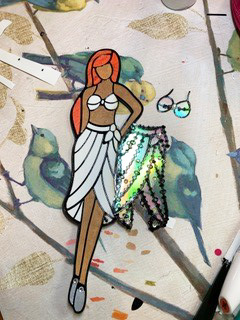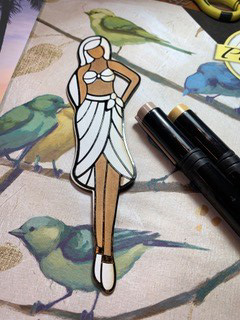 I was surprised that the chipboard could be colored on. It is like coloring on butter, and did not bleed thru. Making it easy to color skin tones directly on the chipboard doll. I colored the dress of the shopping doll directly on the chipboard doll also and it was beautiful.
I used leftover black border lines and put them over the existing lines on the skirt giving it a "Stiched or embroidered look" to her skirt.
I thought using the Krazy Kreations glitter paper for the torch would really make it stand out. That glitter paper is super smooth and easy to color and blend on. I wondered if they all are created equal. Joyce told me that Krazy Kreaitons glitter paper is superior for coloring my outline stickers on.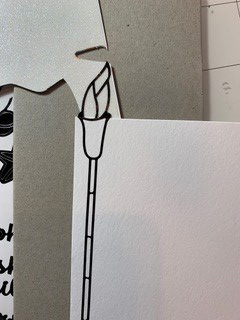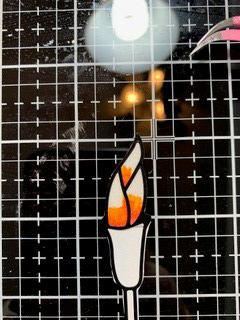 Thank you for this opportunity to share my experiences using Krazy Kreations beautiful dolls. I have learned that they have a monthly kit club with exclusive dolls that I can continue to challenge myself to make. I love Krazy Kreations doll line and will make every one they have! I hope you find this as fun and as creative as I have. Thank you Krazy Kreations for your amazing products, and giving me this opportunity to write my first blog. I never thought at my age playing with dolls would be this much fun!!
Happy Crafting everyone.
Sincerely,
Sandy Shea
Products used:
Glitter Paper: https://www.krazykreations.us/micro-fine-glitter-paper-cool-highlights-8-5-x-11-2-sheets/
Island Girl Chipboard: https://www.krazykreations.us/paper-doll-chipboard-shape-island-girl/
Island Girl Outline: https://www.krazykreations.us/paper-doll-outline-sticker-island-girl/
Studio 71 Markers: https://www.krazykreations.us/studio-71-alcohol-markers/
Recent Posts
Hello Krazy Krafters! Today we have a treat for you! Kara has brought back a shaker card to Kr …

Hello KK Fans! With the new norm it was a little hard for me to find my crafty bone. With the suns …