We all have favorite techniques, colors & subjects. For me, it is coloring. My go-to medium is watercolor. I also favor Copic markers & color pencils.
This year my word is STRETCH – I want to push myself to do the things I have been putting off, finish my studio, lose a little weight, try to do more with the materials I already own (before buying more) & become more active. I also want to push myself to try new techniques, so this time - NO COLORING!
I started with some scrapbook paper that has kind of a boy vibe (another stretch, I'm definitely a girly girl). I covered the paper with SCOR-TAPE. Once I put the paper in a tray, I coated it with CRYSTAL GLITTER RITZ Transparent Microfine Glitter Cool Highlight.
After I took it out of the glitter tray, I burnished it with my finger, to add luster and applied the cupcake sticker from the Cupcakes Outline Sticker sheet.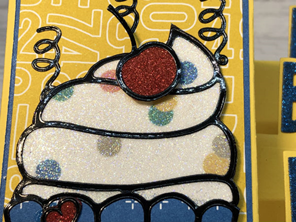 The cherry is white paper covered with SCOR-TAPE & JEWEL GLITTER RITZ Opaque Microfine Fire Red glitter. I used the same red for the three hearts. After fussing cutting those objects, I used scrapbook paper for the cupcake & cut that out as well. I needed a little something for the background, so I used the swirls from the Stacked Presents Outline Sticker sheet.
I used a template to cut out my card. It comes with the words Happy Birth Day. I die cut them a second time using paper I had covered in JEWEL GLITTER RITZ Opaque Microfine Western Blue glitter.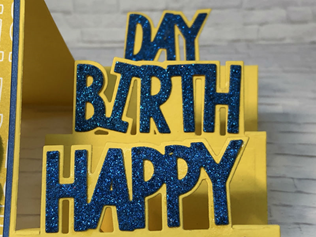 I finished it off with the word Celebrate also from the Cupcake Outline Sticker sheet.
I hope you enjoy the card & I want to encourage you to stretch yourself this year – try a new technique & see what you can do with it!
Krazy Kreations Products Used:
Stacked Presents Outline Sticker
Glitter Ritz Transparent Microfine Glitter Cool Highlight
Glitter Ritz Microfine Opaque Fire Red
Glitter Ritz Microfine Opaque Western Blue
Recent Posts
Hello Everyone, My name is Joyce Schmidt design team member for Krazy Kreations. I used these …

Hello KK Fans!Valentine's Day is right around the corner and I am always on the lookout how to make …

Hello KK Fans!I love to give handmade cards during the holidays, especially when they have a pocket …