Hello Everyone,
My name is Joyce Schmidt design team member for Krazy Kreations. I used these beautiful rose "Sending Love" outline stickers from Krazy Kreations. The sticker sheet has 3 Hearts and Sentiments as well as corners you can use. I chose this set for its value and versatility. In my creative mind I saw multiple applications for them. I decided to showcase the different mediums they are usable on. This first card I made was Christmas themed shown above as the "Sending Love" Sentiment is applicable anytime not just for Valentines day. I found this beautiful brown tone Christmas wrapping paper, cut it down to 5.25" x 4" and used it as my pattern paper. The important part of this beautiful card is that the outline sticker was put on HP Premium Glossy Photo Paper. I colored the vibrant rose with Water color pens and that is how I achieved that vibrant glossy look. *Tip: not all photo papers will work with this technique as they will be gummy when the water is added to them, test your paper before you apply the sticker to it. I then used some pine boughs die cuts that I had to add a more Christmas feel.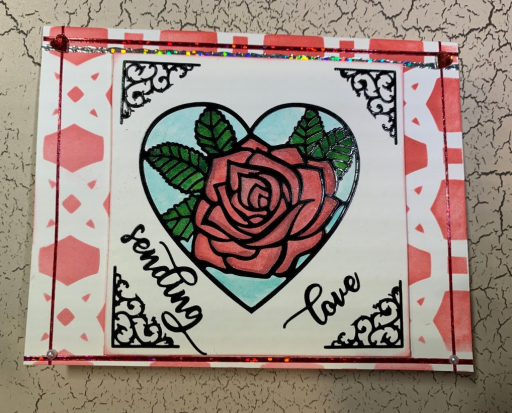 Outline sticker on watercolor paper
The next card I made was a Valentines Day card. I started with a stencil and some red ink. My thought was to "enhance the background" but I ended up with what I thought was a Keltic looking mess! Rather than throw it away and start over I decided to embellish it a little and it turned into this. I used the outline stickers on Watercolor paper so that I could use watercolor crayons and color the rose with that medium. I still felt that it was missing something, so I added the beautiful red and silver border stickers. They add such a stunning effect, with so little effort. It was so beautiful! These stickers are so versatile on ANY medium.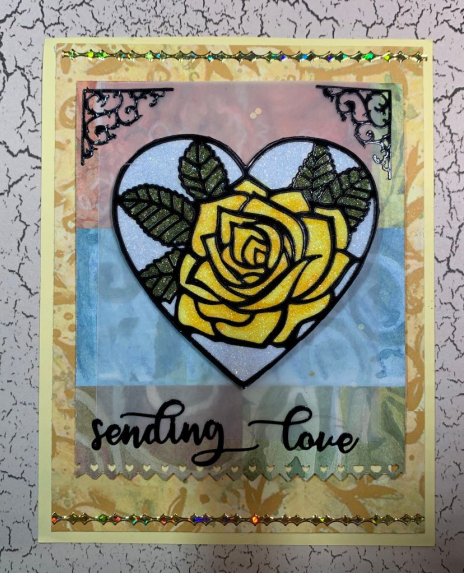 Outline sticker on Glitter Paper colored with Copic
The third card I created was with a fun structure, and patterned paper. I used the top flap as my "card" and it was attached to the base itself. I used that AMAZING glitter paper from Krazy Kreations and decided to make it a yellow rose. After all, do we really have to have an occasion to send love? I started with a yellow piece of card stock, matte a piece of the patterned paper trimmed to fit, and adhered the sticker to the glitter paper. I used Copic markers to color the rose and leaves as well as the background. This glitter paper is the BEST to color with the alcohol markers in my opinion. Finally I felt the flap was a little too bright so I toned it down with a piece of Vellum and that was perfect! To add that finishing touch I used the gold border stickers to give it pizzazz.
I hope you have enjoyed the three cards I did to "Send Love" to anyone, for ANY reason. Thank you for stopping buy and Happy Crafting.
Joyce
Krazy Kreations Products Used:
Heart Flower Outline Sticker: KK3125
Holographic Border Sticker JEJE2843
Holographic Border Sticker JEJE 1785
Recent Posts
Hello KK Fans! With the new norm it was a little hard for me to find my crafty bone. With the suns …

Hello KK Fans! I have been thinking outside of my crafting box and went with something a little d …